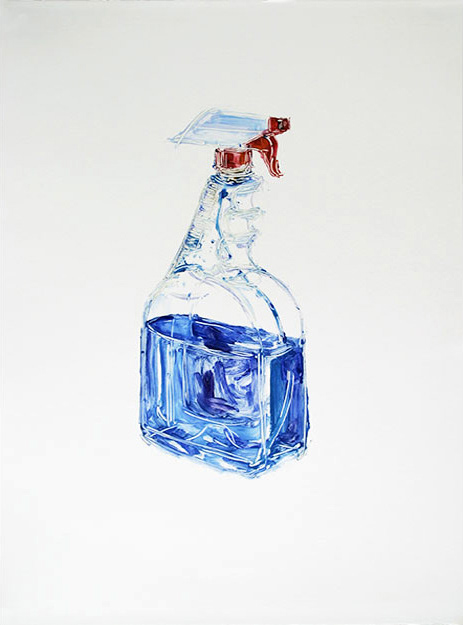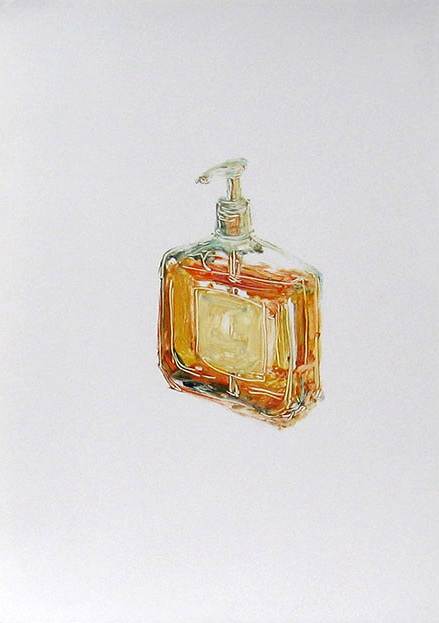 Creating simple still lifes from the immediate, I grabbed what was at hand to take to the press for the monotype session. I grabbed a bottle of Tide.
Creating still lifes turned into a documentary - for a brief moment in time, the world went on a plastic binge, gobbling up custom colored cleaning supplies. All over America, a Great Renovation was under way. The kitchen upgrade was on. Gleaming granite replaced formica. Out with the old, in with the new. To compliment those new granite countertops, boring old cleaning supplies got a face lift. NEW! IMPROVED! 
At the grocery store, the aisle with cleaning supplies doubled in size. Window cleaner was no longer just blue, it was yellow, red, green, pink, lavender, clear, orange, it was pastel, it was vivid, it was scented. It was part of a suite of cleaning supplies. Window cleaner now matched the other cleaning supplies like dish soap and hand soap. Plastic bottles took on new shapes, better grips, seductive silhouettes, as the injection moulded plastic was rammed, stretched, pulled, rolled and pressed.
I played witness as the world passed over the zenith in a rainbow-colored blaze of glory scented with green apple, lemon citrus, strawberry, french lavender.
The housing boom came crashing down. The aisle in the grocery store reverted back to its previous footprint. Have you noticed the Joy bottle? Today, cleaning supplies are showing up in retro style packaging. A last minute plea for mercy. A marketing tug at the heart strings - advertising wants to take us back to the days of plastic's innocence.
"When I was a kid, they made everything out of plastic and everything came in a plastic bag..."
The truth is, our plastic binge won't last much longer. Plastic is a remnant of the last century slowly fading from view.
Printed on a German 1958 Mailänder offset proofing press by master printer Francesco X. Siqueiros at El Nopal Press in Los Angeles, California. Working with an offset printing press typically creates two unique monotypes.